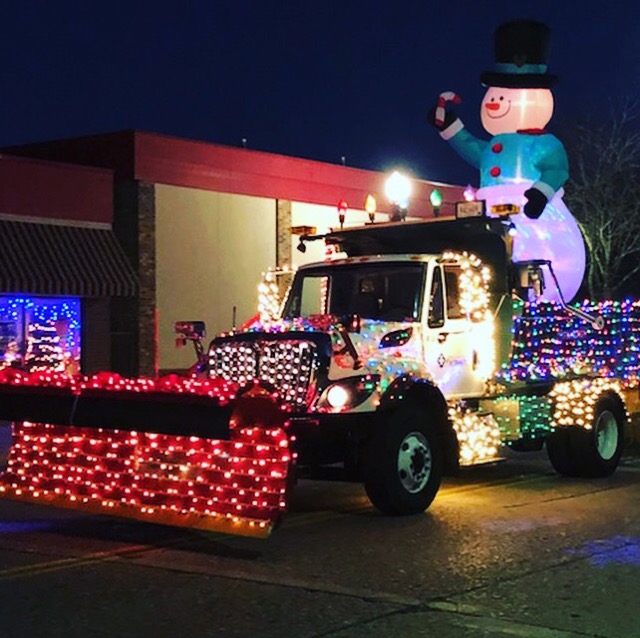 Faribault Main Street announced that the 2021 Winterfest Grand Marshal will be Kelley Watts. Watts is employed at Community Coop Oil Association in Faribault, which is located in downtown Faribault. Watts is active in Main Street activities and events, volunteering at Car Shows and other events, and also serves on the Faribault Chamber Ag Committee.
The annual Winterfest Celebration takes place in downtown Faribault. Now in it's fourth year (2020 festivities were cancelled due to Covid) the event kicks off on Thursday, December 2 with horse drawn carriage rides, an ice carving, downtown window decorating contest, and fun at the Buckham center including reindeer, Santa, games and music. Saturday, December 4th's slate of events include a craft bizarre at 10,000 Drops Craft Distillers, 14th Annual Alexander Faribault House Christmas Open House, Sleds on Central Snow Mobile show hosted with the Faribault Sno- Go Club, firework, the parade of lights, and a street dance with music by Fender Bender, and a full bar. This final float in this year's parade will be the March of the Cousin Eddies, in which all are welcome to dress as the memorable movie character and march down the parade route.
As Grand Marshal, Watts will lead several dozen lit up floats down Central Avenue in Faribault. The parade has quickly become a community favorite since it's inception.
"We are honored to have Kelley as this year's Grand Marshal. She is a positive member of the community, always eager to help make Faribault a better place to live, work and visit. This year's Parade is a truly special event, as we find ourselves emerging from a global pandemic and looking forward to the Winterfest Celebration as a symbol of community and perseverance," said Kelly Nygaard, Faribault Tourism Director and Main Street Coordinator.
The tradition of Winterfest started in 2017 when the Faribault Main Street group looked to grow their existing holiday efforts, and seeing a desire for a larger winter celebration in the 2040 vision, took action and planned the community festival, which quickly became a local favorite.
Past Grand Marshals of Faribault Winterfest have included: Bruce Burkhartzmeyer, Paul Peanasky, and Gordy Kosfeld.
Complete Winterfest Schedule: 
Thursday Dec 2:
Ice Carving 4-8pm at corner of 4th St and Central (by Heartman Insurance)
Window Decorating Contest 4-8pm. Ballots will be available at the Paradise Center for the Arts, the Community Center.
Horse Drawn Wagon Rides: 4:30-7:30 pm
Santa and the Reindeer at Buckham Memorial Library, along with Games & Activities at Faribault Community Center 5-7pm, and live music!
Friday, Dec 3:
Elf at Paradise Center for the Arts at 7:30pm
Horse Drawn Wagon Rides
Shattuck Snow Sculpture team carves Snow Sculpture *Pending Weather Permits (By Burkhartzmeyer Shoes)
Saturday, December 4:
Sleds on Central Vintage Snowmobile Show 1-4pm on the 400 block of Central Ave. This event is free. Food and beverage available for purchase.
Holiday Spirits Bazaar at 10,000 Drops from 11am-4pm
14th Annual Canadian Christmas Open House at the Alexander Faribault House. 11am-3pm. Free.
Fireworks 5:30pm – launched near Crooked Pint and Viaduct
Parade of Lights on Central Ave. between 1st Street and 6th St. 5:50pm
Street Dance on 400 block of Central Ave, in front of Chappuis Jewelry NO COVER! Enjoy music by Fender Bender , heated tent, food and bar available for purchase.
Thanks to the wonderful sponsors who make this event possible:
Xcel, T-Mobile, Met-Con, State Bank of Faribault, Steele Waseca Cooperative Electric, Edina, Faribault Vacuum, Reliance, Faribault Ace Hardware, Faribault McDonalds, Faribault Charitable Gambling
Richie Eye Clinic, River City Refrigeration , Mayo Clinic, Archambault, Faribault Energy Park , Hometown Credit Union, Harry Browns Family Automotive, Allina Health District One, IBEW Local Union 110, Faribault Public Schools, Service Master by Ayotte, LaCanne's Marine, Comprehensive Wealth Solutions, Fountain Centers, Northfield Hospitals and Clinics, Faribault Woolen Mill , Heartman Insurance, Fareway
Premier Bank, Community Coop Oil Assn, Southern Heights , Aldrich Technology, TryStar, Midwest Collision, Cannon River Stem, Pleasant Manor, North Memorial Ambulance, Cedar Lake Electric, Two Rivers Health Center, Valley Staffing, Faribo Insurance, Verizon/Wireless World, JOD Ltd. , Rojas All Pro's Service