Faribault Downtown Micro Grant Program Announces Recipients
Faribault Main Street, in partnership with the Faribault Economic Development Authority, is excited to announce the recipients of the Downtown Micro Grant program funding. The Downtown Micro Grant program is an opportunity open to new business ideas, or for significant enhancement of a current business for the historic district in downtown Faribault. As a means to further the community vision, support entrepreneurialism, encourage investment, and leverage business retention and expansion in the Central Business District, the Economic Development Authority earmarked $25,000 to be dedicated to the Downtown Micro Grant program and facilitated by Faribault Main Street. The Downtown Micro Grant Program consisted of up to three rounds, with the winners receiving a prize value between $500 to $5000.
Ten business concepts applied, and after the judging process, including a complete business plan and access to business development coaching through SBDC and SCORE, five applicants will receive funding. Receiving Micro Grant funds are: Cry Baby Craig's Hot Sauce, Good Day Coffee, Mill Town Bikes, Mighty Fine Coffee, and Janna's Market Grill.
The Judging Panel was comprised of local business, banking and marketing professionals. With the goal of being able to help more businesses succeed and open, the funds are designated for a beginning business, or to expand an existing business' products or services.
"The Faribault EDA is extremely excited to partner with the Faribault Main Street to offer this Downtown Micro Grant Program. The EDA has limited programs which support new and existing businesses with the build-out or nontraditional funding opportunities. Through the Micro Grant Program, we are able to help these businesses with relatively small amounts of funds, but in a way that can make a large impact for businesses in our downtown. We look forward to seeing the impact of funding to these five businesses!" said Samantha Markman, Economic Development Coordinator, City of Faribault
Faribault Main Street Coordinator, Kelly Nygaard, said "These Micro Grant funds have the ability to be a catalyst for growth, innovation, and success in downtown Faribault. All of the applicants were very passionate about not only their business model, but also the community as a whole, and through this process, Faribault Main Street is excited to see them bring their plans to fruition and help build the vitality of historic downtown Faribault. Faribault Main Street is delighted to have the opportunity to partner with the EDA to administer this program and foster entrepreneurism!"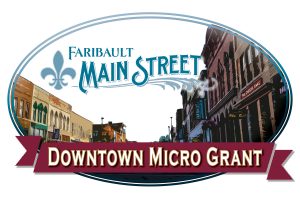 About Faribault Main Street The Faribault Main Street Program is a community-based effort to revitalize Faribault's Historic Business District. It is funded by the Faribault Area Chamber of Commerce and by the City of Faribault Economic Development Authority; however, it is open to members and non-members alike. The Faribault Main Street Program is organized to unify the Central Business District, to create an attractive destination in which businesses prosper the community benefits and residents and visitors enjoy a quality downtown experience.
About the Faribault Economic Development Authority The Community Vision 2040 provides a framework to help ensure the success of the community. Thriving economic development and a vibrant downtown are two of the strategic priorities identified in the vision – with specific goals of developing a comprehensive business incentive package to attract, retain and grow quality businesses and industries. The EDA actively promotes development opportunities in the city, and continues to administer loans and grant programs that will enhance the overall economic vitality for the City of Faribault.