2023 Annual Membership Gala
Faribault Area Chamber of Commerce and Tourism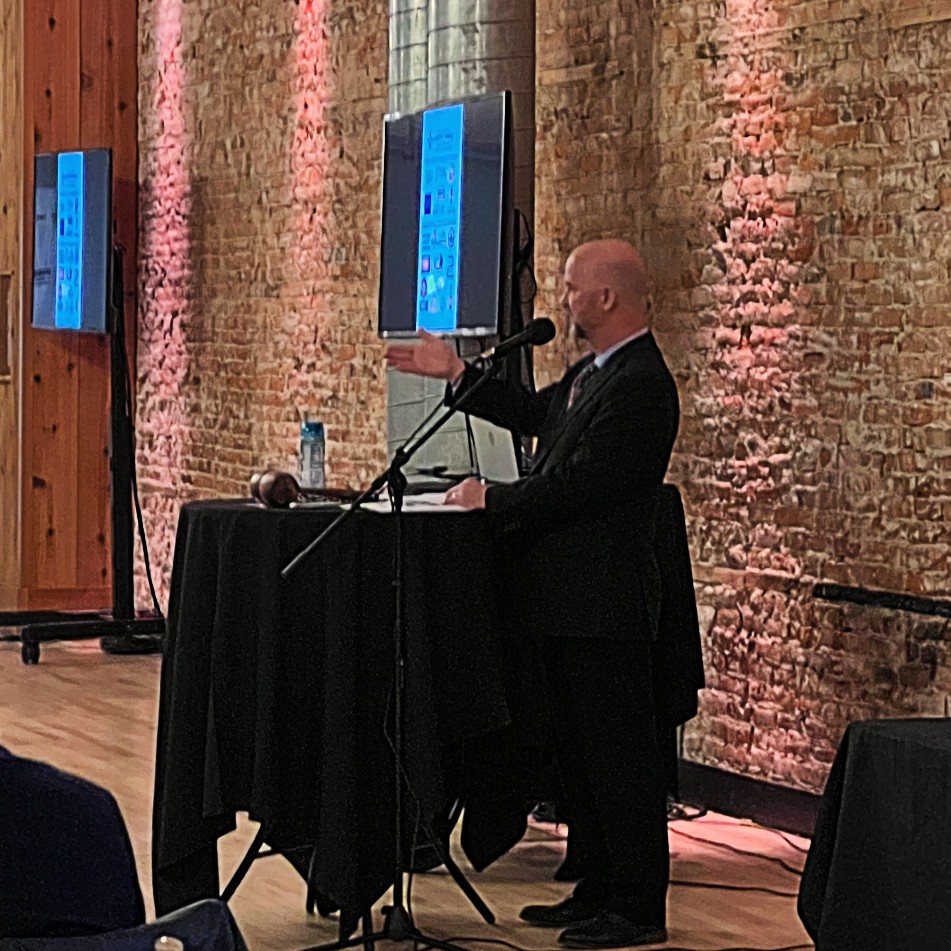 By: Devin Winjum, Devin@faribaultmn.org, February 13 2023
---
The Faribault Area Chamber of Commerce & Tourism held its Annual Membership Gala on Friday, February 10th, 2023, at the remarkable 3 Ten Event Venue in Historic Downtown Faribault. The Chamber and its members celebrated many past successes, and several exciting new initiatives. Thanks to the generous Gala Sponsors who helped make this event fantastic!
It began at 5 pm with a social hour, followed by catered dinner, by Arna Farmer, at 6 pm, and the program began just before 7 pm. There was a special guest recognition of the 2023 Chamber Board members by Nort Johnson, followed by the official passing of the gavel.
Suzanne Terry, 2022 Chair of the Board, officially passed the gavel (via video) to Jody Long, 2023 Chair of the Board. Both Suzanne and Jody provided their own thoughts and words of encouragement to chamber staff and the members. Jody reflected on the leadership of Suzanne, as well as the Chamber.
Nort Johnson, President & CEO for the Faribault Chamber gave the 2022 business report, and provided some insight on the priorities and vision for 2023. Mr. Johnson's speech provided an enlightening overview of the progress and work that happened in 2021 and 2022—and an outlook on the work, plans, and visionary priorities for 2023, and beyond! Johnson highlighted the management and partnership with the Industrial Corporation regarding several downtown buildings and a new industrial site in the community. He announced an amazing accomplishment made by the Chamber Trust in obtaining Department of Education grants, and the Chamber's almost unheard-of membership retention rate of 96%.
There was an exciting raffle drawing for many fabulous prizes, including a barrow of beer, a private movie theater party, and a fish house!
Following the program, guests enjoyed more of the delicious desserts provided by Arna Farmer Catering, drinks, music by Man of Steel DJ & Entertainment, and a photo booth with some fun props to commemorate the evening's festivities.
The Faribault Area Chamber of Commerce & Tourism thanks everyone for their membership, sponsorship, and support—making all the committees, programs, and events possible for our local community. The Chamber staff cannot wait to see you at next year's annual Membership Gala!
The Faribault Area Chamber of Commerce & Tourism extends a special thank you to;
2023 Board of Directors
Jody Long – Chair
Samantha Pirkl – Vice Chair
Suzanne Terry – Past Chair
Keith Kramer – Treasurer
Tara Langevin
Dr. Narren Brown
Sonji Davis
Joy Watson
Molly Titchenal
Nate Chappuis
Jeremy Chavis
Hailey Warner
2023 Gala Sponsors
Trystar
Met-Con Companies
Allina Health Faribault Medical Center
Chappuis Jewelry
South Central College
Shattuck St.Mary's
Faribault Public Schools
Jennie-O Turkey Store
G&H Management
Service Master
Faribault Daily News
Richie Eye Clinic & Lasik Center
Edina Realty
Daikin
Mercury Cooperation
Hometown Credit Union
1st United Bank
State Bank of Faribault
Walmart
Xcel Energy
Harry Brown's Family Automotive
Faribault Mill
Reliance Bank
KGP Companies
Crown Aerosols
KCP, Inc.
LaCanne's Marine
North Memorial Ambulance
Premier Banks
Steele Waseca Cooperative Electric
Archambault Disposal
Tony Langerud State Farm
Haute Tanning
Northfield Hospital and Clinic
Balchem
Faribault Energy Park
Redemption
Janna's Market Grill
Revocity
Rebound Partners
Caves of Faribault
Chamber Employees
Nort Johnson – President
Casie Steeves – Director of Operations
Devin Winjum – Director of Marketing & Communications
Kymn Anderson – Special Projects Manager