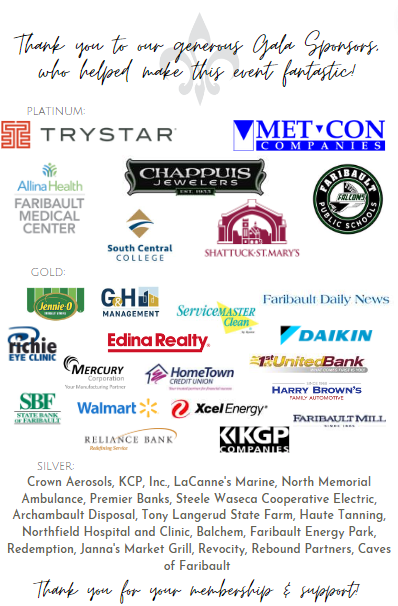 Friday, February 10th, the Faribault Area Chamber of Commerce and Tourism held the Annual Gala!
The event included comments from Suzanne Terry, 2021/2022 Board Chair, before she officially passed the gavel (via video), to Jody Long, 2023 Board Chair. Both Suzanne and Jody provided their own thoughts, and words of encouragement to chamber staff, and membership, and Jody reflected on the leadership of not only the Chamber, but Suzanne. Nort provided and enlightening overview of the progress and work that happened in 2021 and 2022, as well as a outlook workplans and visionary priorities that will come in 2023 and beyond!
At the annual Faribault Area Chamber of Commerce and Tourism gala, we celebrate business, we celebrate successes and new initiatives. We celebrate the work of the Chamber, and we celebrate our community.  Thank you to everyone to came to support the community and the Chamber! It was great to see you all!