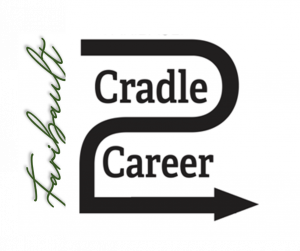 Faribault Takes New Approach to Math Instruction
--
Joy Riggs
Communications Coordinator
Take a classroom of sixth grade math students, multiply it by two, and add a "real life" approach to problem solving. What do you get? Educators in the Faribault Public Schools say the answer appears to be improved math understanding that will have long-term benefits for their students and the community.
The pilot program for a new approach to learning math began out of a desire to improve math scores — one benchmark for assessing student success — and a desire from local businesses to hire graduates who were prepared to enter the workforce. Middle school teachers who incorporated new teaching techniques last spring reported positive results, and administrators plan to expand on the pilot this fall.
"The big picture of it is — let's get kids doing math, let's get them problem-solving authentically, let's get them away from the mimicking behavior that permeates math nationwide," said Casey Rutherford, who served until recently as the district's Director of Educational Technology and Innovation, and the co-chair of the Faribault Cradle 2 Career's Middle School Math Action Team.
Faribault Cradle 2 Career is a community-wide effort to ensure that children are supported from birth through high school and beyond. One of the four benchmarks for success it has established is Middle Grade Math Proficiency: Students score proficient or higher in math by 8th grade on standardized tests, while feeling comfortable and confident in everyday math skills. The other three benchmarks address kindergarten readiness, third grade reading, and high school graduation and college/career readiness.
The Faribault Area Chamber of Commerce and Tourism is one of the key players in the Faribault Cradle 2 Career initiative. Chamber President and CEO Nort Johnson said the business community has been eager to work with the school district on the effort, starting with math.
"It's not just about the schools – it's about the workforce, it's about productive students, it's about engaging the community in all these benchmark areas," he said.
Casie Steeves, who works as the Chamber's Operations Director and currently serves on the Faribault Public School Board, said businesses have generously provided resources for the effort because they know they'll benefit long-term from having a pool of workers who are experienced problem-solvers.
"We know test scores are not where want them to be, but we want to build on student successes and give them the tools to help them gain confidence and understanding, to push them forward," she said, "Everything builds on each other – kindergarten readiness, reading, math, careers, and developing critical thinking skills."
Rutherford said it's clear that the traditional approach of teachers standing up at the front of the classroom, lecturing about math and demonstrating problems, has not helped the majority of students become proficient in recent years, and evidence shows there's a better way.
He learned about the better way last spring when the Faribault Chamber paid for him to attend a statewide math teachers conference in Duluth that featured Peter Liljedahl, author of "Building Thinking Classrooms in Math."
Liljedahl has given talks all over the world, and his book lays out 14 teaching practices that he recommends after 15 years of observing math classrooms and interviewing students. Rutherford said the practices disrupt traditional math instruction in ways that make a big difference and are easy to implement.
"In 20 years of education, I have never seen such a groundswell of teachers being excited, and everybody being united in the same direction," Rutherford said. "In the Faribault Public Schools, we're doubling down on this book and this research as a super-tangible way to help teachers start to move toward these practices that we've kind of known about but haven't had a framework to really push forward."
For example, Liljedahl discovered that students were much more successful when they used a whiteboard to work on a math problem, compared to writing on paper, and a vertical whiteboard was best of all. So this fall, a Faribault High School math teacher will test this particular practice in a classroom that has been outfitted with wall-to-wall whiteboards.
"What we find is that writing on paper is paralyzing to kids. They will end up not putting anything down because they don't want to be wrong. Whereas if it's a whiteboard, and they can just erase if it's wrong, they just start going right away," Rutherford said.
The Faribault Chamber also provided a grant to purchase copies of Liljedahl's book for all the secondary math teachers, their instructional coaches, and their administrators. They will start a formal study of the book this fall, although some of them already starting reading it over the summer.
Faribault Middle School Principal Stacy Fox said two sixth grade teachers at her school who experimented with some of the recommended math practices last spring noticed improved engagement by students, like when a teacher used a video about paint mixing to demonstrate the concept of fractions.
"She connected it to their lives, and it was cool to see them understand that this is math in real life," she said.
Fox said another benefit of this type of instruction is that the teachers don't have to wait until students turn in homework to gauge whether students understood the assignment. Instead, by assessing student engagement during the classroom activity, teachers can identify who needs more help and who has gained understanding of the lesson.
For the 2023-24 school year, Fox hopes to bring more business and community members into the classroom, to continue to show students the real-world applications of their math lessons and to expose them to possible jobs and careers they didn't know existed.
"We might not see results this year or even next year, but I think as we move on, we're going to see students who understand math and understand the reality of math, and that it's not just something you use in school," she said.
Rutherford said his ultimate goal is to keep options open for students as they progress toward graduation and future careers.
"A kid automatically has fewer options in life if they don't understand math. A whole host of careers are closed off to them. Whether they think math is beautiful or enjoy it, I think it's necessary to give them options," he said.
The Chamber is soliciting new members for the benchmark action teams. Community members who want to get involved can visit https://www.faribaultc2c.org/ and sign up through the contact form.